Windows 11 is still in beta and is plagued with various issues. According to user reports, Microsoft recently released a faulty update and it appears to be causing serious issues with the Windows Security app which is used to manage Windows Defender and other security features.
Windows 11 Build 22000.160 or earlier causes Windows Security to display error messages stating "You will need a new application for this Windowsdefender link." Although users can still view antivirus, firewall and protection status, some can no longer open different protection features such as account protection, firewall and network protection, application and browser control, etc.
"I am having trouble opening Windows Security on Build 22000. If you try to do so, a message prompts me to search for an app in the Store," one user wrote in the Feedback Hub.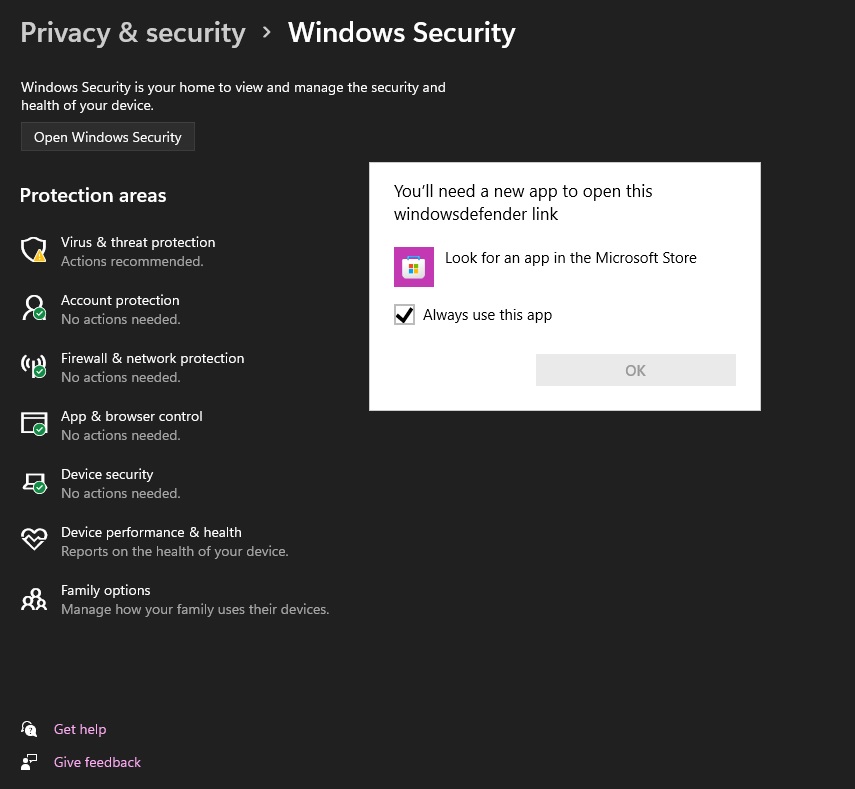 "Any click on any of the items presented under" Protection zones "causes the appearance of this message:" You will need a new application to open this Windowsdefender link ", plus the option" Search for an application in the Microsoft Store, "" another user explained the problem in the Feedback Hub.
Fixed "You will need a new application for this Windowsdefender link" in Windows 11
To correct an error message indicating that an application will be required to open the Windowsdefender link, follow these steps:
Open Windows PowerShell from Search or the Start menu with administrator privileges.
Copy and paste Get-AppxPackage Microsoft.SecHealthUI -AllUsers | Reset-AppxPackage.
Close the PowerShell window.
Once done, you will be able to launch the Windows Security application again.
Other known issues in Windows 11
Microsoft is investigating reports of an issue where beta channel testers will not see the new taskbar and Start menu. To resolve this issue, go to Windows Update> Update History and uninstall the latest cumulative update. Once the patch is removed, you can reinstall it by checking for updates.
Likewise, Windows 11 is also plagued by the following issues:
You may not be able to enter text in the search window.
The taskbar flashes when you change the input method.
Settings app crashes while using search box.
Bluetooth LE devices will experience an increase in Bluetooth reliability issues.
The Windows Widget Table may not work properly.
These issues will be addressed in the coming weeks leading up to the October 2021 release.