Samsung Notes is known to give its competitors a run for their money, being the primary note-taking app that many Samsung users (who make up a substantial share of the total market) use. Being a built-in app, many users including myself don't feel the need to download a third-party app. There are some drawbacks that can be of great concern to those who take note-taking very seriously. The app doesn't allow cross-platform accessibility to its work, so any notes you take on your Samsung won't be available on any other phone. There is, however, a Microsoft Store version of the Samsung Notes app. In this article, we will show how to set up and use Samsung Notes on Windows PC.
How to install Samsung Notes on Windows 11/10
As already mentioned, you can access Samsung Notes by using the official Windows app and syncing your Samsung account with it. Unfortunately, this may not be as easy as it sounds. There is a good chance that the Microsoft Store indicates that the app is incompatible with your PC, unless it is a Samsung PC. There is a trick you can follow to work around the following are the steps you need to follow:
Open the Microsoft Store and in the search bar, enter the name of the app; Samsung Notes.
Make sure your Microsoft account is signed in, the same one registered on your PC.
On the app page, you will see a Get button.
Do not click on it, as it will direct you to the store. Instead, click on the three dots icon below and then select Add to Cart.
If you don't see a three-dot icon, you'll use your phone's browser to complete the process.
Open the same link on your phone and click on Get. You will then be asked to sign in to your Microsoft account.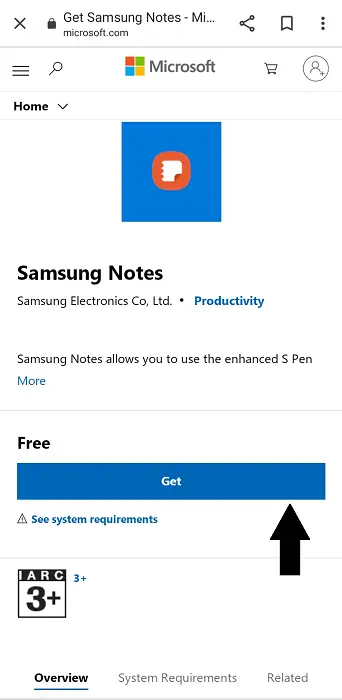 Do that, then if you see an option to install it on your PC (see the image below), skip to the step where we are using the library from the Microsoft Store.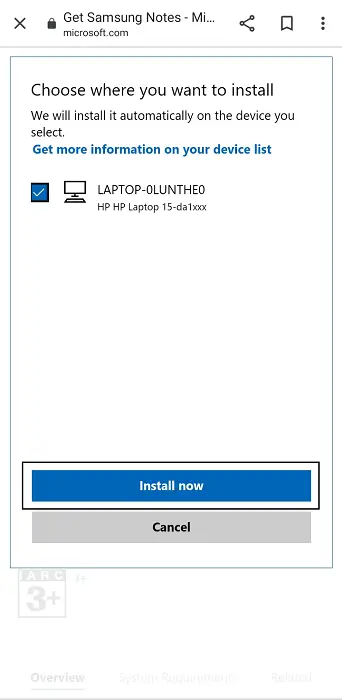 If you don't get an install option, follow the steps below. For those doing it on their PC, add it to your cart, proceed to checkout, and place your order (the billing amount is $ 0).
Now open the Microsoft Store app and search for Samsung Notes again. You will see an option to install the app. If the install button is greyed out, as it was for us, you only have a few things left to do.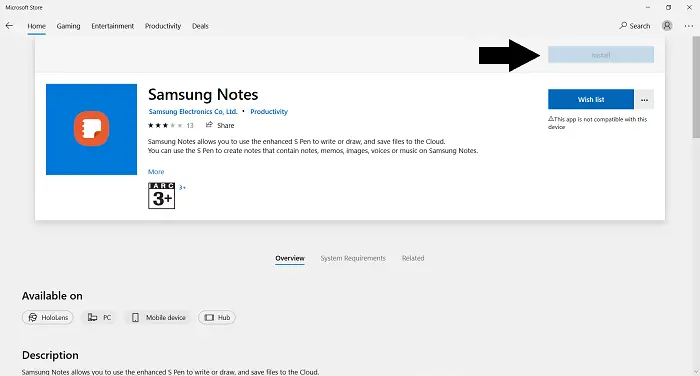 Go to the store home page. From the three-dot icon at the top right, click My Library.
Select to sort the list by apps and at the very top you will see your recently purchased Samsung Notes app. Click Install here. It's a 250MB application, so naturally that will take some time.
How to set up Samsung Notes on Windows 11/10
Now that you've downloaded the app, it's time for you to set it up on your PC. Open the Samsung Notes app and in the options pane on your left, click on the settings option just at the top. Select Samsung Cloud and sign in with the Samsung account registered on your phone or wherever you have the notes you want to sync with your PC. Wait a moment and then you will have access to your notes. These can be created, edited or deleted from your PC itself now.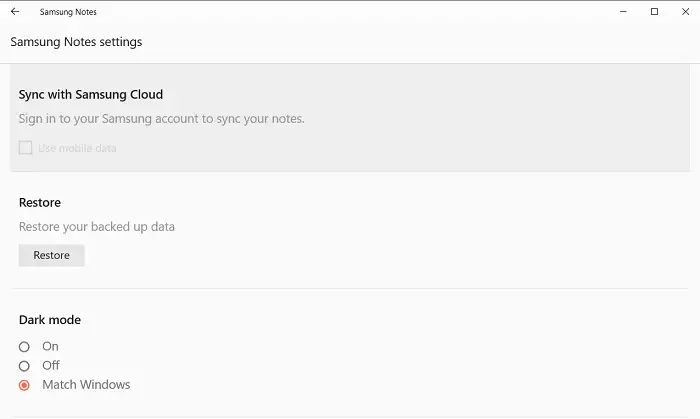 It is unlikely, but you may run into issues while trying to sync your Samsung ID with the Notes app on your PC. Maybe the connection is not going well, in which case there are some troubleshooting methods you can implement.
Restart your computer
Make sure you are using the correct credentials for your Samsung account.
Disable and enable Samsung cloud
Uninstall and reinstall the app
We hope that not only will you now be able to install the Samsung Notes app on your PC, which is usually not available for most, but also use it to add or delete existing notes by syncing your Samsung account.